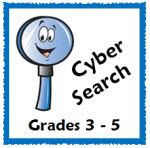 The Cyber Search Showcase held on Monday, August 8th was a success! Thanks to the T.P.T. sellers and you the teachers out there who came and spread the word around. You'll find other great free and inexpensive teaching materials here and on the blogs and websites listed below. If you'd like to receive information about future Cyber Search events, be sure to follow my blog, facebook, twitter, or T.P.T. pages so that you can keep up to date with new offerings.
Thank you for downloading My Math Telling Time Unit with Five Lessons (PDF Format)
Other Great Grade 3 - 6 Teacher-Sellers on T.P.T!